Virtual Myotonic Goat Show Results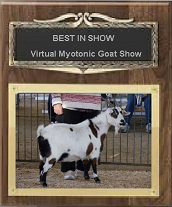 The learn more about the Virtual Shows, see Show Information.

Thank you 2015 Virtual Show Sponsors!
Become a 2015 Virtual Show Sponsor and watch the Awards Pool grow!
Only $15 gets you advertising on the virtual show pages as a sponsor. 100% of the sponsorship money goes into the pool for the three 2015 High Point winners.